I haven't updated this blog in two months.  It wasn't that I fell off my #healthyfencerows lifestyle at first.  It had more to do with accepting a new job, trying to wrap up details at my old job, various board meetings for groups I serve on, Thanksgiving and Christmas and finishing my 100 day workout challenge.
You read that correctly, I finished working out for 100 days in a row!  It was a bit less dramatic than I assumed. I figured i would finish the workout and feel like a million bucks, be skinny, fit in all my "back of the closet" clothes, and be bouncing off the walls with energy.  Instead, I felt rushed, I'm down a dress size but don't see a huge difference, and I'm tired all of the time.
So I took a picture.  I hate pictures.  But I needed to see if there was a difference.  Everyone assured me that the picture on the left, taken at my Grandpa's funeral at the end of July, looks different from the picture on the right, taken at the beginning of December.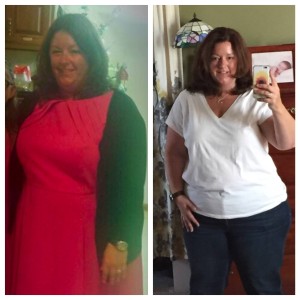 I guess the pictures should look different.  There's a 37 pound difference between the two photos.
I don't make resolutions.  But I am going to start my 100 days in a row journey again.  I need the feeling of accomplishment to cross of workout days on a calendar. And I have a friend who said I inspired her to get to the gym.  She's inspiring me to get my rear back in gear and I'm using her as my accountability partner.
I expect the next two weeks at the gym will be crazy.  And I will be working out even earlier than before.  I start my new job on January 4th.  I'll be working out even earlier in the morning to allow me to get cleaned up and headed to the office in a timely manner.  Somehow I'll have to get to bed earlier each night to be up at 4am and in the gym.
So here I go again!  Do you want to join me?  I'll be following this program again, http://www.bodybuilding.com/fun/lee-labrada-12-week-lean-body-trainer.html.  It worked the first time for me so I'm excited to do it again!
See you in 100 days!  Hopefully you'll see less of me.