On Tuesday night, my Panda and Monkey had a once in a lifetime experience. Thanks to my friends and colleagues at
Indiana's Family of Farmers
, my girls were able to throw out the first pitches at the Indianapolis Indians baseball game.
You might recall my girls are baseball players. They love the sport. So the chance to stand on the nation's best minor league ballpark pitching mound and show their stuff made their night. It made The Farmer and I's night as well!
Panda pitched first. She has a serious throwing arm! And a serious face.
Monkey pitched next. Her throw didn't quite make it to home plate! But that didn't diminish the smile on her face.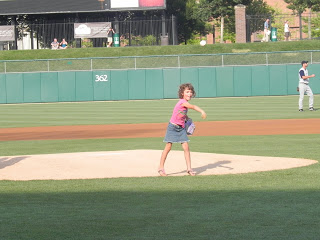 And then it was time for hugs from Rowdie! A great night and fantastic memories!