I am totally in love with my Crock Pot.  I have a cooker that is 16 years old, a wedding gift, that gets used a lot!  So I was very excited to see Heartland Barbecue Beef for the crock pot in my Gooseberry Patch cookbook that I'm cooking through. 101 Homestyle Favorites wins a big star with this recipe.
The recipe:
2 lb beef chuck roast, cut crosswise into 1/2 inch slices
1/2 c. chopped onion
2 cloves minced garlic
2 c. catsup
1/4 c. brown sugar
1/4 c. Worcestershire sauce
1 tsp. mustard
1/2 tsp. salt
1/4 tsp pepper
6-8 split buns
This is so simple.  Basically combine everything except the buns into your crock pot.  Mix it up and cover.  Cook on low for 6-8 hours.  Serve on buns.  Simple!!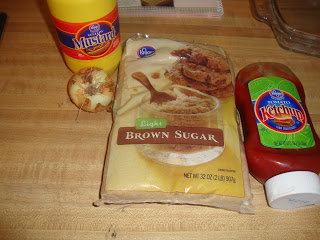 I wish I had a picture of the finished product, but my family ate it so fast that I didn't have time to take a picture! But I can assure you, this recipe was super!
Special thanks to Gooseberry Patch for providing me with this great cookbook to try and share with you. If you would like to purchase this or other cookbooks, please visit their store. If you would like to see other great recipes, check out http://www.realfarmwivesofamerica.com/