I love bacon. And cheese. And if you combine those two things, add some potatoes and soup you have what looks gross but tastes fabulous!
As I was working on another recipe from the 101 Homestyle Favorites cookbook from Gooseberry Patch, I found this recipe for Country Potato Bake.  It looked simple and I had the ingredients already on hand.
20 ounce package of frozen shredded hashbrowns
can of cream of mushroom soup
1/4th cup melted margarine
1 c. shredded Cheddar cheese
6 slices of bacon, cooked and chopped
16 ounces French fried onions
Doesn't this picture make you hungry already?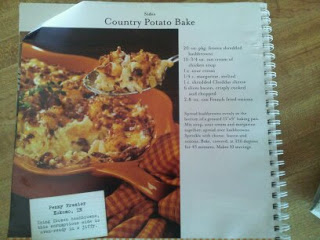 Start by spreading the hashbrowns in a greased 9×13 pan.
Mix soup, sour cream, and margarine together and spread over the hashbrowns.
You then need to get your bacon fried.  This is how my bacon looks.  We butcher our own hogs every winter and package the meat ourselves.  So this is a package of bacon.  Looks yummy, right?!!!
Instead of frying six pieces of whole bacon, I used my kitchen shears to chop up 6 (or maybe 10) pieces of bacon. More bacon is fine by me! I then fried it in a small pan.
After the bacon was fried crispy and brown, I spread the cheese and bacon on top of the hashbrowns and soup.  I did not use the fried onions.  I don't personally like those onions and didn't have any in my cabinets.  Back the Country Potato Bake for 40 minutes at 350 degrees. 
This was delicious!  Although it's not something I can justify eating every week.  Just too high in calories, despite the use of low-fat products where I could.  But it was good!!
Special thanks to Gooseberry Patch for providing me with this great cookbook to try and share with you. If you would like to purchase this or other cookbooks, please visit their store. If you would like to see other great recipes, check out
http://www.realfarmwivesofamerica.com/