I am sharing another Indiana wine with you, but I can almost guarantee you've never tried this one!

French Lick Winery is well known for their award winning wines.  The winery opened in 1995 and since that time they have established themselves as outstanding winemakers, winning numerous medals in wine competitions for their outstanding wines. 

French Lick also grows grapes in their Heaven's View Vineyard, which was planted in the spring of 1998 on Hoosier Homestead Farm overlooking the White River Valley in Martin County. Located approximately 20 miles west of the winery, the vineyard's eight acres are comprised of the first planting of Norton grapes in Indiana, as well as Chambourcin, Traminette, Vidal, and Vincent varietals. These varietals are new to many wine drinkers but they thrive in Indiana where traditional varieties often struggle due to harsh weather.
The winemakers raise sheep as well.  They look pretty cool in the vineyard!

The winery is housed in the old Kimball Piano Factory in West Baden Springs, Indiana.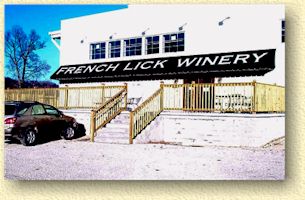 The inside features a long tasting bar and an exceptional restaurant!


But you've come for the wine.  And this is a good one.  Crema Dolce is a sweet wine that is a perfect drink with your after dinner desserts or cheese plate.

But I don't eat cheese after dinner, unless I'm at a fancy work meal.  And I prefer to drink my calories instead of having dessert!  So I think this is a perfect "just-because" drink!  It's great right before bed!!  By a roaring fire.  Or while reading a book.  Or yelling at the TV during a football game.

This wine is creamy.  In the glass is it almost amber in color.  When you smell and taste it you'll find flavors of caramel, butterscotch, and a lot of nutty undertones.  It is decadent!

And it's only $19 a bottle.  This isn't meant to be guzzled, rather sipped and enjoyed.  

Have you been to French Lick Winery?  Any favorite wines from your visit?