This week my industry's annual meeting is taking place.  It's why this Wine Wednesday piece is actually getting posted on Thursday! 
One great part of our annual meeting is the chance to hear from other wineries around the Midwest.  This year the winemaker from Black Star Farms in Suttons Bay, Michigan. And he brought some great wines for us to taste!
The first flight we tasted was a selection of Rieslings.  These are 2006, 2008 and 2011 dry Rieslings.

This tasting of three wines took place at 9am!  Don't I have the best job?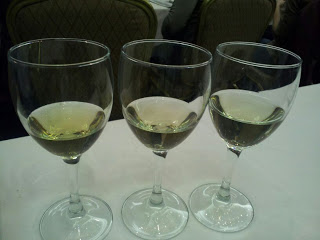 Only the 2011 vintage is still available for sale.  Riesling does not have to be surgary sweet, as some
may be fa
miliar with. This is  a dry wine, meaning it's residual sugar level is very low.  When you smell this wine you will notice c

itrus and stone fruits aromas followed by very subtle minerality. When you taste it you should find fresh apple, orange and apricot fruit flavors combine with a hint of spice for a crisp and refreshing finish. 
Since this wine isn't sweet, it can be stored away for a few years in a cellar to age. Any wine that has a sweetness factor can not be stored for years! The sweeter the wine the faster it should be drank. The winemaker said this could be cellared for five to ten years. Personally, I always try to cellar wines but get too thirsty and drink them instead!
This wine is $18 a bottle and pairs well with Asian fare, curries, and seafoods!