It's not secret I like, or love, white wines.  While I'm always thrilled to pair that perfect red wine with a great medium grilled steak, I don't always enjoy sitting down at night, back on my laptop finishing up work stuff, sipping a big red wine.  I'd rather enjoy a crisp, chilled white wine while I finish answering emails!

I also think wine is a great drink to enjoy during the Super Bowl!  You don't have to drink beer with your food choices.  Plenty of white cheese dips, appetizers and main dishes go well with wine!

While at my industry's fall board meeting, held at Bloomington's Oliver Winery, I had a chance to try a new wine they had recently released.  I was hooked about bought 3 bottles immediately!  I just drank the last of those three bottles and need to go buy more.

III is a blend of Vignoles, Vidal Blanc and Chardonel. I love all three of these grapes as a standalone wine.  Blended they are nearly perfect!  

According to the Oliver Winery website:


This wine is the result of the winemaking team drinking too much coffee and brainstorming about the possibilities of a white blend from Creekbend.  Various white varieties were barrel fermented on an experimental basis in hopes that a nice blend would develop. The final wine from those trials is a blend of  barrel fermented Vignoles and Vidal Blanc, along with a fraction of stainless steel fermented Chardonel. All three portions underwent complete malolactic fermentation.

This wine has delightful aromas of pineapple and tropical flowers.  Its flavors of pear and apple resemble those of a good Viognier.  III has a rich mouthfeel and delightful lasting finish.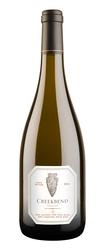 Because this wine carries the Creekbend label, that signifies these grapes are grown in Oliver's Creekbend vineyards, just a few miles from the winery.  

This wine retails for $22/bottle.  It is more than worth it to buy a bottle, or two, or in my case…maybe six bottles!  It won't take me long to enjoy this wine!  I'll encourage you to buy some to, but not until I get mine purchased!