I have never felt as busy as I have in the past few weeks.  I'm finally sitting down to write this blog on the even of the opening of our county 4H fair.  We have a small county fair that is focused on 4H and youth.  Our midway isn't much to talk about and I'm fine with that.  Our focus in on the hard work these kids to get ready for the fair.
And hard work it is.  I've figured out this year what my Mom and Dad must have felt like in those last moments of fair preparation.  I imagine they wanted to smack me a few times thanks to my procrastination in getting projects done!
When this week is over, I'll sit down and write how all of the projects have done.  But for now we know this much.  Panda took 15 projects.  Yep.  15.  Yes, I know it's crazy, I'm a nutty Mom, blah, blah.  I've heard it all.  I like to think I challenged her to get those projects completed as best as she could.  And she has.
But there were some tears, just once.  While we were sewing her skirt.  It took about 30 minutes before she was mad and crying.  But I quickly adjusted my attitude and she did hers.  And that was it.  The rest of this experience has been fantastic.  It has allowed her and I to spend some great time together.
So far she has had 10 projects judged in prefair judging.  She has received Champion ribbons (the best project in her division) in Foods, Bake with a Mix, Sewing Non-wearable (the picture below is of her making her pillow for that project) and Genealogy.  Everything but Bake with a Mix will go to State Fair!
She has a Reserve Champion in Sewing Wearable.  She has also received blue stars (considered for champion) on Food Preservation, Collections and Gift Wrapping.  And a blue on Cake Decorating.  We won't know Champion on Collections until Monday.  Food Preservation only picks a Grand Champion and I highly doubt she'll get that. Consumer Clothing has been judged but we won't know those results until Tuesday night.  She still has to turn in corn, soybeans, wheat, rabbits and show her hogs.  The crops projects worry me since everyone had such a late planting date and our fair is so early.  I'm hoping the judge keeps that in mind when he sees the really small soybean plants she has!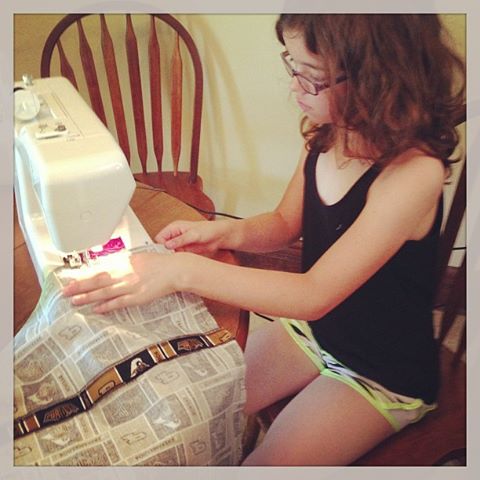 Can I brag for just a minute?  4 Champions and 1 Reserve Champion so far?  In her first year of 4H!!  I am so proud of her I could burst.  All of this accomplished while playing baseball too.  This upcoming week is baseball championships. It's a lot of running and craziness, but has been worth every second.
And not to forget my Monkey.  This is her 1st year of Mini 4H  That is when you take a maximum of three projects as a sort of practice for "real" 4H.  The projects don't get judged.  Everyone gets a ribbon and they get in the habit of doing the projects.  And hopefully they get excited for 4H!
Monkey has taken three projects.  Sewing, in which she made a bear head from felt; mini livestock, where she'll show a little pig this weekend in the Mini 4H livestock show; and Foods, where she had to make a popcorn snack.
She made my Great-Grandma's Caramel Corn.  This stuff is fantastic.  Honestly, you won't find a better caramel corn in stores or in a bag.  This beats it all hands down.  And it is a family recipe that I won't share.  I don't have many of those, but this is one.  She had a blast making it!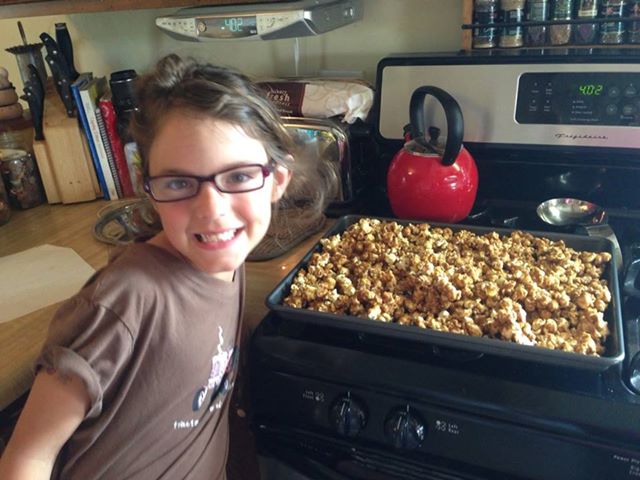 Would I recommend 4H to anyone? You bet.  The Farmer and I were 10 year 4Hers and think this is hands down the best learning experience for kids during the summer.  You don't have to live on a farm to be in 4H.  That seems to be a common misperception.  There are plenty of projects that don't require farm animals or shoveling manure.  My Panda has plans for more projects next year.  And I think it might be easier next year, now that we got our feet wet this first year.  But I can't promise she'll have another year like this one with the purple ribbons!
Whatever happens with the rest of the projects, this year has been a blast.  And the fair hasn't even officially started!!  Thank goodness for 4H.  Friendships, life skills and speaking skills tossed with a bit of procrastination will probably round out this first experience!