Every winter my family butchers a pig.  We actually butcher a few for my parents, grandparents and The Farmer and I.  It's something I have done for many years! I can recall standing on a chair next to my Mom and Grandma helping to wrap meat after my Dad and Grandpa had cut the carcass of the pig and divided up the different cuts of pork.
This picture shows how we hang the hogs to get them cool after we have skinned them and removed the head.  The carcasses have to hang and get extra cold before we can work up the meat. And I have to say this meat is never resold.  It is for our consumption only.
This walk down memory lane is to tell you about a recipe using some of the sausage we just processed this past winter.  As a hog farmer, pork has always been part of my diet.  This Spaghetti Pie recipe is one that my Mom made often, many times substituting sausage instead of hamburger.  I make it both ways, but my family prefers the recipes with sausage!
Spaghetti Pie
Spaghetti Pie
Ingredients
1-2 pounds sausage
16 ounces spaghetti, cooked and drained
jar of spaghetti sauce
2 cups mozzarella cheese
1 large egg or 2 medium eggs
Instructions
Brown sausage. Drain grease from pan and mix in the jar of spaghetti sauce. Cook spaghetti and drain. Grease a 9x13 pan. Beat the egg(s) and add to bottom of dish. Put spaghetti as bottom layer and mix just enough to cover spaghetti with egg. Add sausage mixture. Cover with 2 cups of mozzarella cheese. Bake at 350 degrees for 30 minutes. Enjoy!
Start with 1-2 pounds of sausage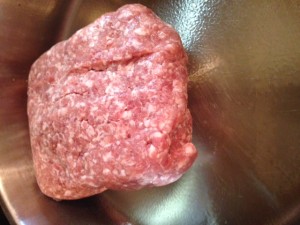 Brown until it's no longer pink.  Drain the grease from the pan.  To the pan, add one jar of spaghetti sauce and stir.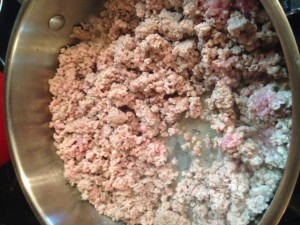 In a greased 9×13 dish, break either 1 large egg or 2 medium eggs.  Stir until you've broken the yolks and covered the pan.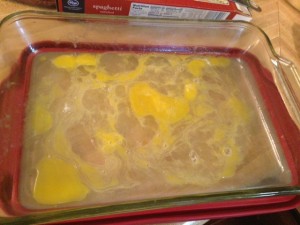 Add cooked spaghetti, stirring to cover the bottom layer of noodles with the egg.  This helps form the crust of the spaghetti pie.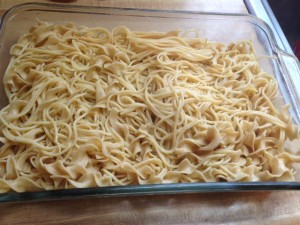 Spread the sausage mixture on top of the spaghetti.
Add 2 cups of mozzarella cheese to the top.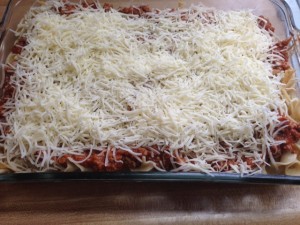 Bake for 30 minutes at 350.
That's it!!  Doesn't that seem so easy? This dish freezes well too!  Just prepare in a freezer container and don't cook it until you are ready to eat it.
Enjoy!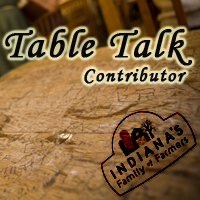 I am participating in Indiana's Family of Farmers Table Talk Series and received a gift in exchange for my participation.  Because what girl doesn't love gifts?!