It's cold outside.  And I don't like it.  I enjoy fall temperatures, but not freezing, bone-chilling, make your nose drip and eyes sting kind of cold. And it's starting to feel like that in the early morning darkness.
Whenever it gets cold, I look for warm drinks.  Hot tea is always one of my first choices.  My warm apple cider is also something I truly love to drink!
A few years ago, I posted this recipe for Hot Caramel Apple Cider.  The recipe is compliments of the 101 Homestyle Favorite Recipes (101 Cookbook Collection)
from Gooseberry Patch.  This recipe will warm you to your toes!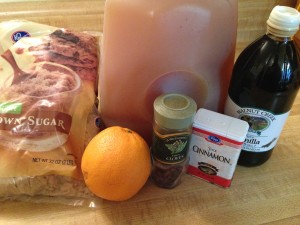 While the recipe calls for 1/2 gallon of apple cider, I use almost the whole gallon.  You can double the whole recipe if you wish.  I don't.  I think 1/2 cup of brown sugar is plenty of sweeten the gallon of cider.
Pour the cider into your slow cooker.
Add the vanilla, cinnamon sticks, cloves and cider vinegar.  Stir.  then slice up your orange and put it in the slow cooker as well.  You'll let this warm on low for 4-6 hours.  Your house will smell amazing!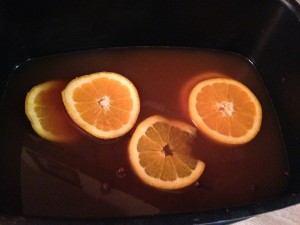 Then pour the cider into your favorite mug, add the orang and enjoy!
Do pay attention to your kids while you are making this cider.  I let the crew work on laundry while I was making this and found my Lion Cub in a bit of a predicament.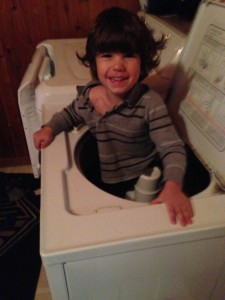 Hot Caramel Apple Cider in the Crockpot
Ingredients
½ gallon of apple cider
½ c. brown sugar
1½ tsp cider vinegar
1 tsp vanilla
4 inch cinnamon stick
6 whole cloves
1 sliced orange
Instructions
Combine all ingredients in a slow cooker. Cover and cook on low for 4-6 hours. Strain, discard spices and enjoy!