Who wants to work a job where you are under constant criticism, certain group of people want to see you fail and will go to many lengths to wreak havoc on your job, weather will take months of hard work and it in an instant and you aren't guaranteed an income after all the hard work?
We do.  Why? Because I don't know any other way of life.  The Farmer and I pass each other more than we actually spend any time together.  We move from hog barns, tractors in fields, kids activities, church, various board meetings and school functions like crazy hamsters on a wheel.  But our kids are reaping the benefits of being raised on the farm. Knowing where their food comes from. And being their own agvocates in the process.
Weather can be our worst enemy. Like when a tornado took down a hog barn.  This was the first time.  It happened again, to a different barn, and still making me wonder why we farm.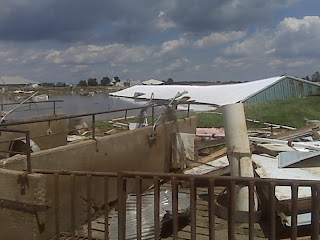 We farm so we can teach the next generation how important it is to educate others about agriculture.  In the picture below we were taking a tour of the Indiana Statehouse over fall break.  And then over Spring Break my Panda and Monkey got to meet Lt. Governor Ellsperman in her office!  They were speechless.  Honestly, my kids talk all of the time but when they got in her office they couldn't speak!
So why do we farm?  It's not the be the biggest.  Or the richest.  I'm not even sure how you get rich farming.  But it is to continue on as the 4th generation on my family farm.  To educate future generations about their food.  And to make something our kids will be proud of, and hopefully, become the 5th generation to carry on the legacy.