It's October.  Around here, that means The Farmer is knee-deep in harvest and I'm running 2 girls to basketball, school activities and all of their other activities, dragging the Little Man along for the ride and continuing to work my own full-time job while doing a 3 hour commute a day.  To put it simply, it's called crazy.
However, I wouldn't trade any of the craziness for any amount of money.  And since it's been a bit goofy and my blog has been fairly non-existent, I thought I'd revive it and show you around a recent night of harvest.
Every Saturday night I take supper to the guys doing harvest.  And this is the scene nearly every time I find the field.  A row of semi's lined up waiting for a load of corn or soybeans to be taken back to our elevator at the farm.  This picture has three of our semi's.  We have four that run during harvest.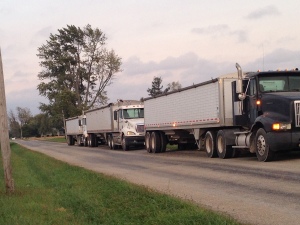 This is a picture of one of our tractors and grain carts.  The combines harvest the crops and then dump the corn or soybeans in the grain cart, "on the fly," meaning the combine and grain cart are moving and continuing harvest as the combine empties the crop into the grain cart.  The cart then goes to the semi and empties in it.  It may sound like an extra step, but it keeps the combines moving and moves harvest faster.
We have two Massey Ferguson combines.  They each have 12 row heads for corn and 45′ bean heads.  The picture below shows the combine as it would go through a corn field.  We usually run both combines in the same field at the same time.  This night we had both combines running corn.  Each grain cart stays with a combine through the field.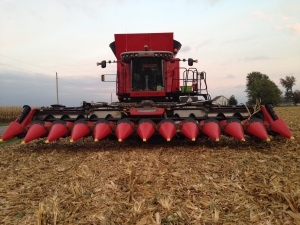 When I feed our harvest crew, I'm packing for an Army of people!! There are 10 guys to feed, my 3 kids and my 89 year-old Grandma.  Grandma isn't in the field helping with harvest, but I always stop at her house with a meal and take time for a visit.
So the combines, tractors and grain carts are all big and fun to drive.  But in the end, this is why we farm.
For these kids.  These are two of my kids and both of my cousins kids.  The only one missing is our Little Man.  These are the 5th generation of our family farm.  These kids love to ride in the combines, drive the graincart and just hang out around the farm.  They love working in the hog barns and are soaking up every bit of knowledge they can about farming.
And then there are the friendships.  My Panda is best friends with her cousin.  They are glued at the hip.  They are in class together in school, play sports together, generally live at each others houses and go to church together.  They share dreams, hopes, boy talks and clothes!
Farming has its ups and downs.  However, I wouldn't trade it for the world.  I love our harvest nights and love the chance to watch our tractors move through the field.