I don't like to be scared.  I'm a super-jumpy person.  Ask anyone who walks into my work office without knocking.  I jump out of my skin.  The Farmer thinks it is hilarious to sneak up on me.  I'll jump a milk.  And the kids constantly are trying scare me.  It's not hard!
I'll also admit to not being someone who really enjoys Halloween.  Except for the candy.  I like free candy.  Especially Mounds bars.  Feel free to send those my way.
So when I was offered a chance of a preview tour of the Indianapolis CHildren's Museum Haunted House, I hesitated.  And I asked them a lot of questions, specifically if anyone was going to jump out at me!
Thankfully, our preview was during their Lights On hours.  And it was neat to see the amount of work that goes into this Haunted House.  This year's theme is a Creepy Carnival.  As someone who has both an amateur circus and a well-loved county fair in my backyard, this felt a bit like some of my home stomping grounds.
I hate clowns.  I've said that many times in this blog.  So the first thing we saw was this…a giant clown's face.  My Monkey isn't really thrilled with clowns either, as you can tell by her face!!  Despite my fear of clowns, lights on or off, this was a great feature.  Kids can crawl through the mouth into a different part of the museum.  My Little Man thought that was great!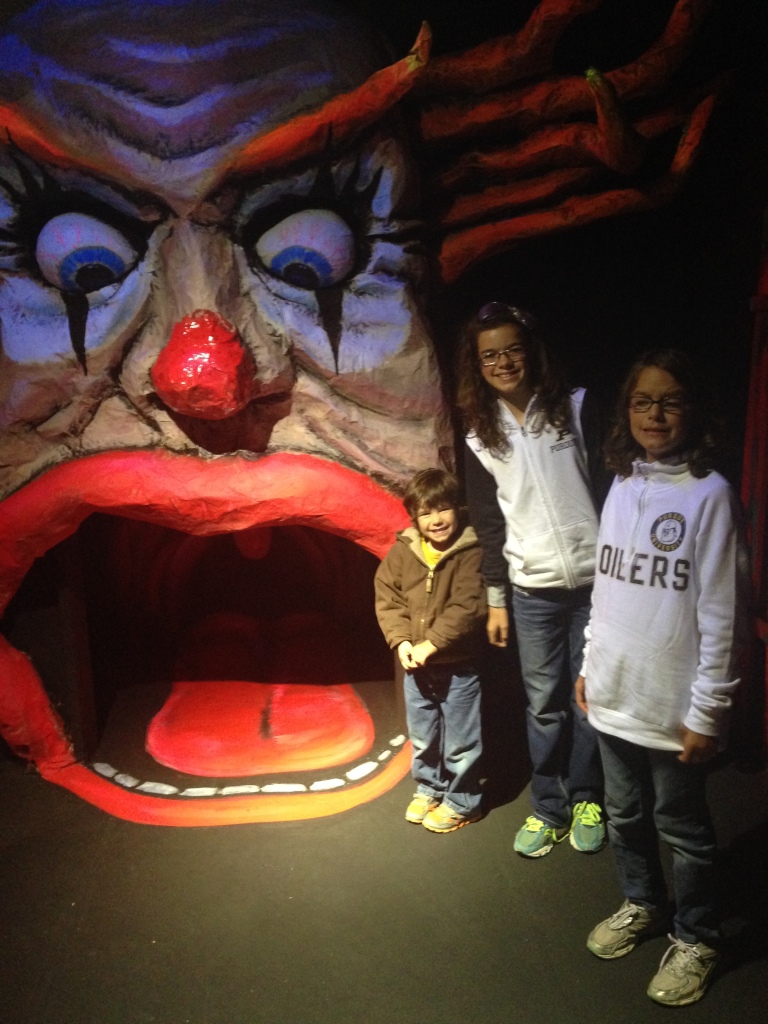 The entire Haunted House had really fun spots.  And neat things to look at.  The girls loved the black lights in the rooms!  They glowed in the dark!
It was a pretty quick visit through the Haunted House.  I was told that the typical visit is about 15 minutes.  Maybe a bit more for the Lights On hours, probably less for the extreme scare hours.  There are also chicken exits, just in case you can't make it through!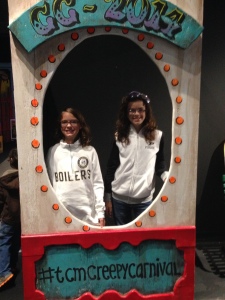 Details for the Haunted House:
IPL's Lights-On Hours
(Recommended for children who scare easily)
Wednesdays–Saturdays: 10 a.m.–3 p.m.
Sundays: 11 a.m.–5 p.m.
Halloween: 10 a.m.–3 p.m.
The Haunted House is closed on Mondays and Tuesdays
Defender Direct's Frightening Hours
(Recommended for children who dare to be scared)
Thursdays–Saturdays: 3:30–8:30 p.m.
Wednesday, Oct. 29: 3:30–8:30 p.m.
There are no Frightening Hours on Halloween
The Haunted House is closed on Mondays and Tuesdays
Williams Comfort Air's XTREME SCREAM
(Recommended for teens and adults)
Fridays and Saturday, Oct. 24 and 25: 9–11 p.m.
Tickets
Children under 2 are free.
Lights-On and Frightening tickets are $7 online or at the museum Box Office. Tickets are also available at AAA and Orange Leaf locations.
Lights-On and Frightening tickets $6 at Marsh Supermarkets. Save $2 on Haunted House/museum combo ticket at Marsh
Xtreme Scream tickets are $12 online or at the museum Box Office.
I'm giving away 2 tickets!  This will be a short contest, since Halloween is right around the corner.  If you want to win them, please like my Facebook page and leave a comment below. Giveaway ends October 26, 2014 at Midnight EST.  Tickets will be mailed on October 27.
Good luck!
While the Indianapolis Children's Museum provided me and my kids with free admission to the Haunted House and tickets for a giveaway, my opinions expressed are my own.  I still hate clowns.  No one can change that opinion.