Every planting and harvest season, I'm responsible for one night of feeding our field help.  That means I cook for 10 guys, 3 kids and my Grandma.  Grandma doesn't help in the field but I do like to take her a meal so she can take a night off from cooking for herself.  And then my kids get a chance to visit with their Great-Grandma as well!
Start by beating an egg and spreading it in the bottom of a 9×13 casserole dish.
Cook some spaghetti.  I usually cook a big box and then make two casseroles.  I think in this picture I ran out of spaghetti.  So I added egg noodles!
Brown a pound of hamburger (or 2 if you are doubling the recipe) and add a jar, or two, of spaghetti sauce.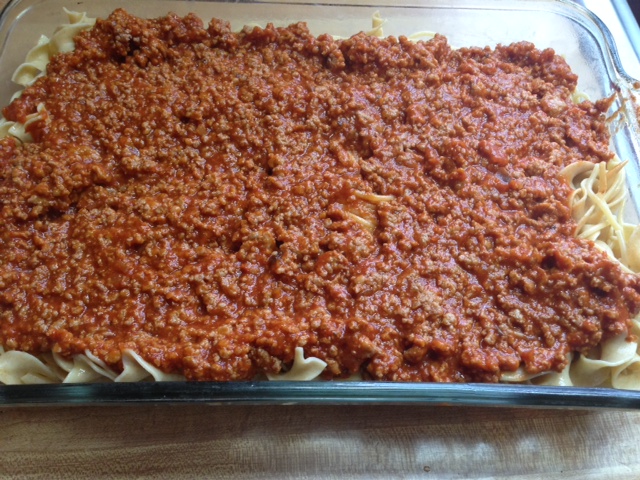 Layer the spaghetti, meat sauce and then a package of mozzarella cheese on top.  Bake at 350 for about 25 minutes.  That's it!!
Since harvest usually last 2 months for us, I end up making supper 7-8 times.  This meal is almost always the first meal I make of the season.  It's cheap, filling and the guys really like it.  Or at least they tell me they do!
What's your favorite meal to fix for a crowd?  Spaghetti Pie tops my list.  But what about yours?