I get asked often why my Farmer chooses to raise our hogs inside climate, controlled hog barns.  There is plenty of people raising hogs who choose to keep their animals outside.  They say it's better for the hogs.  While I choose not to debate how anyone wants to raise their livestock, I do educate people on why I raise our hogs in barns.
Last year, Indiana's winter was one of the worst ones I can remember.  It started snowing in December and didn't seem to quit until March.  One particular blizzard left our hog barn buried in snow. When I took this picture, there were already 9 inches of snow on the ground.
During this storm, the actual temperature outside was miserable.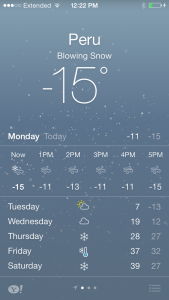 The house was getting colder by the minute as our own power was out.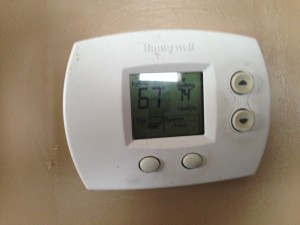 And while the house would eventually get down to 50 degrees before the power came back on, the hog barns were warm.  They run on generators. So while we were literally freezing in the house, the barns were warm.  And the hogs in the barns were warm, out of the elements of the blowing snow and ice.
Temperature controls are just one reason we keep our hogs in barns.  By having them in barns, as opposed to outside on pasture, we can keep them safe from predators like coyotes.  Keeping our sows  (the mom pigs) inside, means we can monitor them as they are giving birth and protect the baby pigs.  We can watch for any pigs that may be sick and give them extra attention.
Keeping our hogs inside warm barns means we can also monitor what they are eating.  Pigs are by nature curious animals.  They'll eat anything put in front of them.  But feeding them the vitamins, minerals, corn we raise and additional soybean meal means we can assure they are getting proper nutrition.
As a 4th generation hog farmer, I remember raising hogs outside.  We used to keep some of our sows in outside lots.  And I recall the anguish on my Dads face when we would lose a sow due to terrible temperatures.  Or a sow would give birth in the outside lot, before we could get her moved inside to birth.  And then we would deal with the loss of the piglets, as the sow likely laid on them.
I'll never tell any person who spends generations farming how they should farm.  Just telling you how we choose to farm and why we think it is best for our multi-generational farm.  And on days when the power is out in our house, the snow is howling and the temperatures are dropping, I may be inside freezing but our hogs are in nice warm barns.  It's hard to convince me they should be outside instead.