Christmas is about the birth of a King.  In our house and in our families, that is first and foremost in our celebrations.  And while we celebrate the true meaning of Christmas, we also celebrate our families.  Mine is pretty large with numerous cousins, aunts, uncles, second cousins and three wonderful grandparents.  The Farmer's family is  a bit smaller.  While all of his grandparents have passed away, he is still blessed with his parents, sister, aunts, uncles and cousins.  And yet this year, his family is a bit smaller than last year at this time.
He recently lost his Great Aunt Virginia and just today we said goodbye to his Aunt Judy.  And we weren't ready for either to be gone.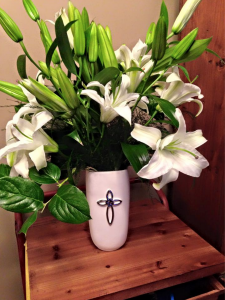 Both ladies were known for their lovely Christmas family meals.  Later, I'll tell you about Aunt Virginia's persimmon pudding.  Today, it's Aunt Judy's oyster dressing I'll share.  In full discloser, I don't have her recipe yet.  Although we talked about it today during her funeral dinner.  The Farmer and his sister can't stand the dressing.  My in-laws like it.  And I had never tried it until my first Christmas meal with the Farmer's family, about 22 years ago!
So while I wait for the family recipe, I'm sharing one I found in a cookbook that I think might be close to my favorite.  Hold your family close.  You never know what tomorrow may bring.
Oyster Dressing
Ingredients
tablespoons butter, divided
1 cup chopped onion
4 green onions, chopped
2 stalks celery, chopped
Pinch cayenne pepper
3 cups crumbled Cornbread
3 cups bread crumbs
½ cup minced fresh parsley
Salt and freshly-ground pepper to taste
2 large eggs lightly beaten
1 pint shucked fresh (live) oysters, drained (reserve ½ cup oyster liquid)
Instructions
Preheat oven to 350°. Lightly butter a large rectangular baking pan.
Heat 2 tablespoons of the butter in a large skillet over medium-low heat. Sauté onions and celery in the butter until tender; remove from heat an add a small pinch of cayenne and let cool.
Combine cornbread and breadcrumbs in a large bowl; gently fold in sautéed onions, salt, pepper, and parsley.
Add beaten eggs and toss more; moisten with the reserved oyster liquid until moist but not soggy. Gently stir in the oysters.
Pat the mixture into the prepared baking pan (it should make a 1-inch layer in the pan). Dot with remaining butter and bake about 45 minutes, until golden brown and set in the center.