There is nothing tastier that cake.  And this recipe for a Yummy, Easy Vanilla Sheet Cake literally takes the cake for an easy treat!

The Farmer and I are going to celebrate our 20th anniversary this summer.  It's been a blessed 20 years, years that I can't imagine going through without him.  Years that have gone so fast and a wedding that just feels like yesterday.
There are very few wedding or shower gifts that I can remember who gifted them to me.  But one stands out and has had much use.
See all those spatters on the pages? That's a sure sign I've used this recipe a lot!  The recipe book was given to me by my Aunt Donna.  There are some of her family favorites, recipes she has brought to many family meals and a few favorites from my other aunts.  The one pictures is my Aunt Rita's Vanilla Sheet Cake.  It makes a big jelly roll pan-sized cake so it perfect to take to the field during spring planting and fall harvest.  This cake makes at least 20 pieces, depending on how big you cut the pieces.  It is perfect to field a crowd!
Start by mixing the sugar and flour together in a bowl.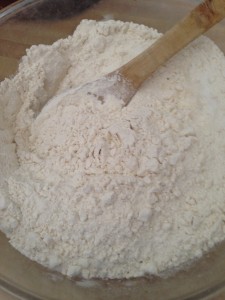 Boil butter, oil and water in a saucepan on the stove.  Use butter, not margarine.  Trust me, you can notice the difference in taste!
You'll add that mixture to the flour combo and blend.  To that add cinnamon, baking soda, 2 eggs, vanilla and buttermilk.  If you don't have buttermilk, make your own by adding a splash of lemon juice or vinegar to milk!
Blend all of that and bake at 350 for 20 minutes in a greased and floured jelly roll pan.  While the cake is baking, make the icing by mixing cream cheese, powdered sugar, vanilla and butter.  This is the best cream cheese icing!
Once the cake is done, let it cool for just a few minutes.  I like to spread the icing on the cake while it's still warm.  The icing spreads much easier.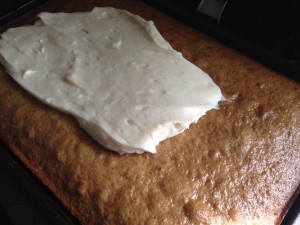 Doesn't this look yummy?  Let it cool, if you can resist, and then cut a big piece and enjoy!
Yummy, Easy Vanilla Sheet Cake
Prep time:
Cook time:
Total time:
The best tasting and easiest cake!
Ingredients
2⅔ c. flour
2 c. sugar
½ c. butter
½ c. oil
1 c. water
2 eggs
3 tsp. vanilla
1 tsp. cinnamon
1½ tsp. baking soda
⅔ c. buttermilk
Cream Cheese Icing
½ c. butter
1 tsp. vanilla
8 oz. cream cheese
1 lb powdered sugar
Instructions
Mix flour and sugar together. Bring butter, oil and water to a boil and pour over flour mixture. Beat together. Add remaining ingredients and beat well. Pour into a greased and floured jellyroll pan. Bake at 350 for 20 minutes.
For icing mix all ingredients and spread over warm cake.