This post features me comparison shopping at three different grocery stores.  This trips were sponsored by Indiana's Family of Farmers.  And while they compenstated me for the post, the opinions are all my own.  Including my disgust with Whole Foods.
I'll admit to really loving the grocery store.  I like looking at packaging, products, marketing and new items.  I laugh out loud at the companies who label apples at gluten-free, and then wonder who exactly falls for that?  I get excited when new products are released or my favorite mini-sweet peppers are on sale.  Crazy, maybe.  But I love to wander the aisles and look at what is being sold.
I do most of my grocery shopping at Aldi's and Kroger's.  Plus I visit the locally owned Amish market for my lunchmeat and cinnamon rolls that are better than I ever make.  Those are the only places I shop.  Today I was shopping for ingredients to make Crockpot Lasagna Soup.
So to my surprise, I learned that I was going to need to shop at a Whole Foods.  Let's be clear, Whole Foods goes against everything I stand for as a hog and grain farmer.  I believe in using clear concise measure in selling foods.  Whole Foods markets gluten-free apples.  I believe that consumers should choose how they spend their food dollars.  Whole Foods tells customers that if you don't buy their food, then you are not feeding your family correctly.
For this trip, I took my friendly dietician Kim and my blogger friend Crystal with me.  We were going to shop three different stores, buying the same recipe ingredients at each store, and compare prices.
First stop was Kroger's.  Since this is one of the stores I shop often, i breezed through the aisles and found my ingredients. I purchase store-brand on nearly everything I buy, except tomatoes.  I always buy Red Gold tomatoes.  As an Indiana company with Indiana growers, I love the tomatoes and the company!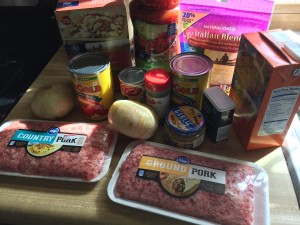 Cost? $20.61 total.
Then she told me we were going to Whole Foods.  I was less than happy.  I didn't want to spend one dime of my hard-earned, hog-raising, corn-growing money at that store.  I thought the store smelled bad and I was upset that I couldn't find every ingredient I needed, as they didn't sell pork sausage.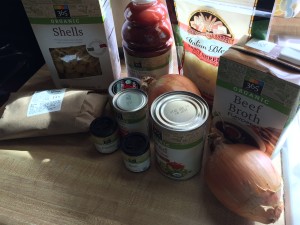 And the real shocker?  The cost.  $33.17 for the ingredients that they did sell.  Don't forget they didn't have sausage.  And to top it off, the ground pork I did buy for this recipe was rotten when I unwrapped it.  I pulled it out one day before the best-by date and it was stinky and rotten. So that was a waste of $6 on a pound of meat.
Then it was off to Aldi's.  I really love shopping at Aldi's.  It is my go-to for pantry and kid snack staples.  I usually don't buy meat at any grocery store, so I was happy that they had the meat I needed.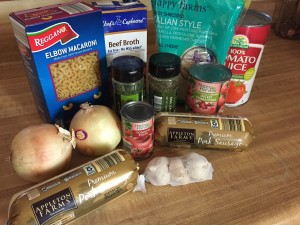 I was most excited about the price! $17.13 for the entire meal!  Almost $16 cheaper than Whole Foods.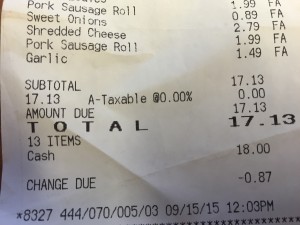 As a hog and grain farmer, I support people spending their grocery income however they choose.  If you want to shop at the Whole Foods stores, then please do so.  If Aldi's is your favorite store, that is great.  What I don't like is a grocery store telling me that I'm not feeding my family the "right" way if I don't shop their store.
Now for the recipe!  I made a Crockpot Lasagna Soup.  This is a simple, filling recipe and perfect for fall nights!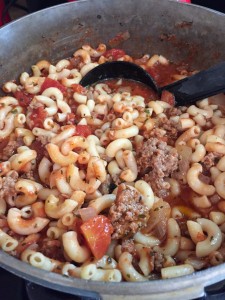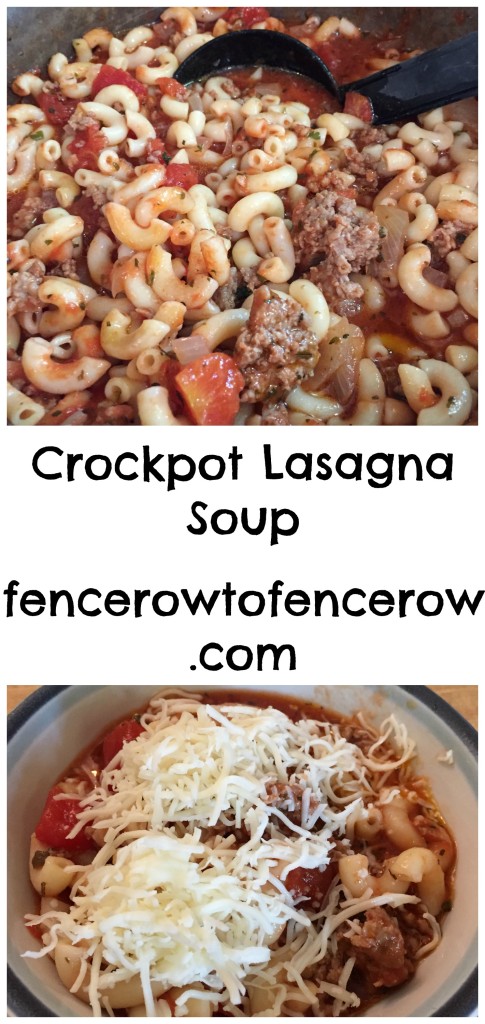 Enjoy!

Crockpot Lasagna Soup
Prep time:
Cook time:
Total time:
Super easy, crockpot soup that is tasty and will please the entire family!
Ingredients
1 lb ground pork
1 lb. pork sausage
4 cups of beef broth
1 tbsp minced garlic
1 tbsp dried parsley
1 tbsp dried basil
½ cup chopped onion
28 oz can of diced tomatoes
6oz can of tomato paste
1 cup vegetable juice or V8
2 cups uncooked shell pasta
salt and pepper to taste
Instructions
Brown pork and sausage on the stove.
Mix together the can of tomatoes and tomato paste in crockpot.
Add broth, beef, garlic, parsley, basil, onion, vegetable drink, salt and pepper
Cover and cook on LOW for 7-8 hours.
Just before serving, boil pasta in a saucepan. Add prepared pasta to crockpot and stir.
Serve with salad, garlic bread and cheese for topping!
I'm hooking up to my lovely friends
Whatcha Crockin'
 weekly blog fun!