With colder weather upon us, there is nothing I like better than a big bowl of comforting soup when the chill sets in.  This Hearty Beef Stew does just the trick to warm you to the bones, while remaining lower in calories and full of vegetables and lean beef.
Thanks to my friend Lana from Walking the off-beaten Path, we have a freezer full of beef.  I bought a cow from her last spring and had it butchered.  This chuck roast was one cut we had from that cow.  I cut it into chunks and browned it in a big deep pot.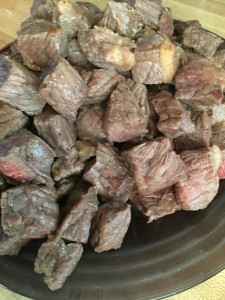 After the meat was brown, I took it out of the pot and browned two sliced onions.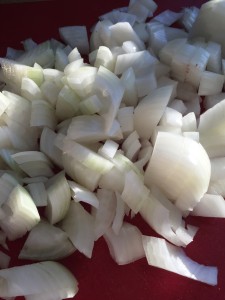 I added some flour and spices to the onions and mixed.  Then I poured in beef broth, dry red wine, water and the beef.  It simmered for an hour and smelled so good!
After an hour, I cut up some yellow potatoes, carrots, red bell peppers, spices and more water.  Then it returned to a slow simmer for another hour.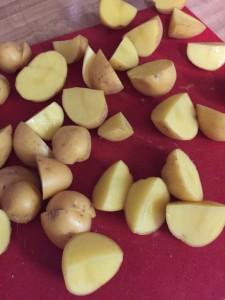 After another hour simmering, it was ready to eat!  Everyone in my house loved the and I was full after just one bowl!

I tried to figure how many calories this dish contains.  I estimate 400 calories and about 15 grams of fat per one cup serving.  Enjoy!!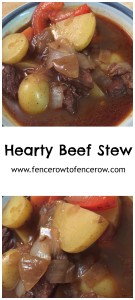 Hearty Beef Stew
Prep time:
Cook time:
Total time:
Ingredients
3 pound chuck roast, cut into 1-inch chunks
2 tsp salt and pepper
olive oil to cover bottom of an to brown beef
2 medium onions, chopped
4 TBSP flour
2 TBSP paprika
2 tsp caraway seeds
3 garlic cloves, chopped
2 cups dry red wine
4 cups water
4 cups beef stock
1 lb. yellow potatoes
6 carrots, chopped
3 red bell peppers, sliced
Instructions
Sprinkle beef with salt and pepper. Heat oil in a large pot. Add ½ beef to pan and brown for 6 minutes. Transfer to a plate. Repeat with remaining beef.
Reduce heat to medium and add onions to pan. Cook 5 minutes or until softened.
Add flour, paprika, caraway seeds and garlic. Cook 1 minutes, stirring entire time. Add wine and cook 2 minutes or until thick.
Add 2 cups water, stock and beef to the pot. Bring to a simmer, reduce heat to low and cook for 1 hour.
Stir in potatoes, carrots, peppers and reaming 2 cups of water. Simmer, partially covered, for 45 minutes or until meat and vegetables and tender.
Add remaining salt and pepper to taste.