I just made the best soup of my entire life.  Seriously people.  I almost ate three bowls of this fantastic yumminess!  Mexican Pork Pozole Soup that is hearty, easy and so, so delicious!
Let me back up and explain why I wanted to make this soup.  A few weeks ago, Rusty and I had the chance to go to Mexico.  We've been to the sun and sand of our southern neighbors on a few occassions.  But anytime we get to sit on a beach as a couple is a great time!  With a farm full of livestock, it is nearly impossible to get away.  The animals need cared for 24 hours a day.  If we just had crops, it would be easier to escape for a few days.  But with hogs, it takes a bit of planning to be gone.  Thankfully, we have great employees who tend to the animals when we are gone!
And thank goodness we could escape for a few days.  We needed it!  21 years of marriage and we still make each other laugh.  I'm fairly certain he was goosing my rearend as we were trying to take this picture!
See my sunburnt nose?  See my handsome hubby?  I love him so!
The best food we ate was this just caught, grilled on the beach, giant yellow tuna!  Served with freshly cracked coconuts!  Coconut water isn't exactly tasty, in my opinion, until you add some flavored vodka to it.  Then it starts to taste better!  And I should be embarrassed that I attacked that coconut with my plastic knife and fork to get the meat out of the inside!  It was so tasty!
This was so good.  I wish I could lick the computer screen!  I ate this meal sitting on my beach chair, watching Rusty play beach volleyball, visiting with great friends and enjoying the ocean in front of me.  It was heaven!
I love to eat as "local" as possible when travelling.  Sometimes resort/hotel food doesn't quite fit that bill.  When I've been in Mexico, I sometimes find they tone down the spices, "Americanize" the flavors and serve too many burgers!  So I was very excited to find a soup at breakfast one morning.
I loved this soup.  Pork Pozole Soup with hominy and pulled pork.  The broth was fairly mild.  I ate two bowls for breakfast that morning, and each subsequent day we were there!  And I wanted to recreate it when we got home.
I made my soup a bit spicier.  I like a little heat.  My kids like some spice as well.  And my Farmer thinks jalapeno's are mild.  So spice doesn't bother him!
The first step was to chop up an onion and brown it in some olive oil with garlic.  I rarely crush garlic cloves.  I always have garlic paste on hand.  And this one I found on clearance!  A little squeeze of this goes a long way.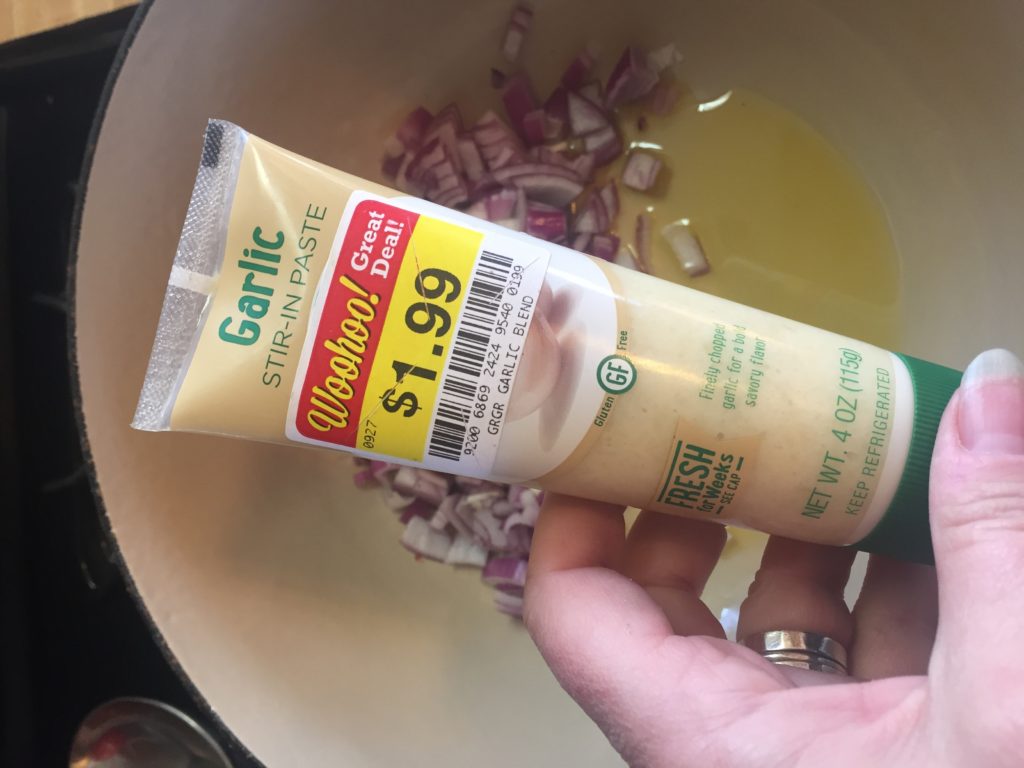 After browning the garlic and onion, I added the spices for a few minutes.  Be sure to stir so it doesn't burn.
I made this recipe with both a pork loin and a pork shoulder roast.  Despite having both of these items in the freezer from when we butchered over Christmas, I did purchase them at the grocery.  I recommend buying whichever cut is on sale.  This picture is of a pork loin.  I cooked, submerged in water, on medium for 8 hours in my crockpot.  The water becomes my pork stock for the soup.
Add the pork stock, hominy and enchilada sauce to the onion mix.  Bring to a boil.  Then add the shredded pork and heat until warm.
Serve with sour cream, a squeeze of fresh lime juice and salt and pepper to taste.
I liked this soup so much, that I just made my Farmwife friends their own soup!  Eight of us just got together and did a big freezer cooking session.  I made 8 batches of this soup, one for each of us, and froze them in gallon size freezer bags.  All my friends will have to do it thaw it, heat in a crockpot until warm, and serve!  My friend Cheri, who blogs at Queen of Free, has a great post about how to do a successful freezer meal day.
I hope you love this!  I miss this view, but so glad I brought the soup idea home with me!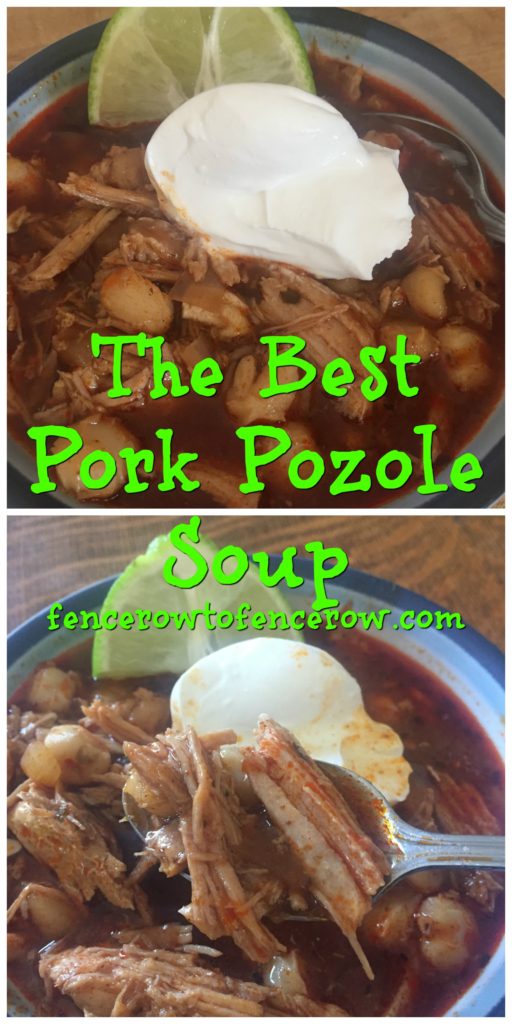 The Best Mexican Pork Pozole Soup
Prep time:
Cook time:
Total time:
Ingredients
1 tbsp olive oil
1 chopped onio
t tsp garlic paste
2 tsp dried oregano
1½ tsp dried cumin
Pork stock from cooked pork loin or roast
1 large can white hominy
28 oz. mild enchilada sauce
3 cups pork roast cooked and shredded
1 lime
Instructions
Cook your pork loin or roast in a crockpot for 8 hours on medium. Remove pork and shred. Save stock.
Add the olive oil to a large pot. Saute the onion and garlic paste for 5 minutes on medium heat. Turn the heat to low and add the spices. Saute 1-2 minutes, continue stirring.
Add the pork stock, hominy, and enchilada sauce. Return heat to medium and bring soup to a boil.
Reduce the heat to low and add the shredded pork. Simmer for 15 minutes until hot.
Serve with sour cream and lime wedge.
"This post was sponsored by Indiana's Family of Farmers but all thoughts and opinions are my own"