Every Saturday afternoons during harvest you can find me frantically trying to take care of three kids while getting 14 suppers put together to take to the field for our harvest crew.  Because I'm feeding a bunch of farmers, there isn't any sandwiches or fast food for these guys.  They get fed well!
This pictures shows a meal I took a few weeks ago.  They always consist of a main dish, salad, veggie and usually bread.  This is Pizza Casserole, sweet corn that I froze from our fields this summer, salad and garlic bread!
 I also make dessert for the guys.  My Farmer complains he actually gains weight during harvest season do to all the good food they eat.  My Mom, Aunt and I share the cooking responsibilities during harvest.  While my Farmer could live on sandwiches for a while, my Dad and Uncle prefer hot meals.  The farm crew like them as well.
When I was a kid, the only way I got to see my after school during harvest was to ride in the combine.  My Mom would drop me off after school and I'd ride until she brought supper.  Or we'd take supper and I'd ride until Dad quit and we went home.  My kids are now the same way.  If they want to see their Dad or Pappaw, they go to the field. On a recent night, I caught everyone stopping to eat!
Peanut Butter Sheet Cake
Ingredients
2 c. flour
2 c. sugar
1 tsp baking soda
½ tsp. salt
1 c. water
¾ c. butter
½ c. peanut butter
2 eggs
¼ cup vegetable oil
1 tsp vanilla
½ c. buttermilk
Glaze:
¾ c. butter
6 TBSP buttermilk
½ c. peanut butter
3½ cups powdered sugar
1 TBSP vanilla
Instructions
In a large bowl, combine flour, sugar, soda and salt. Set aside. In a saucepan bring water and butter to a boil. Sit in peanur butter and oil until blended. Pour over dry ingrediants. Mix until blended. Add eggs, buttermilk and vanilla. Mix well. Lightly grease a jelly roll pan. Pour mix into pan and bake at 350 for 20-25 minutes, or until a toothpick inserted in cake comes out clean.
For glaze, combine sugar, buttermilk and peanut butter in a saucepan. Bring to a boil, stirring constantly. Remove from heat and pour over powedered sugar and vanilla. Beat until smooth. If the icing is too thick, add a splash of milk until it is smooth.
Spread over cake.
Mix flour, sugar, baking soda and salt together.  Set aside.
In a saucepan, bring water and butter to a boil. Stir in peanut butter and oil.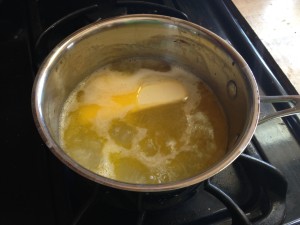 Mix peanut butter mixture into dry ingredients.  Add eggs, buttermilk and vanilla.  Mix well.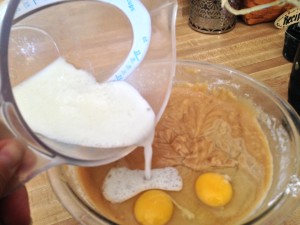 Pour into a greased jelly roll pan.  Bake at 350 degrees for 20-25 minutes.  Take a toothpick and enter into cake.  If it comes out with no wet cake on it, the cake is done!
While the cake is baking, find your favorite 7-year-old who likes to lick the beaters when making icing!  Have her boil the butter, buttermilk and peanut butter over low heat.  Stir it constantly.
 Once it is combined, pour that mixture over the powdered sugar and vanilla.  Beat until blended.  If it is too thick, add a splash of milk until you get it to a spreadable consistency.
When the 7-year-old is done, have her find her 3-year-old brother and let them lick the beaters!
Spread the icing on the cake and enjoy!!
Enjoy!!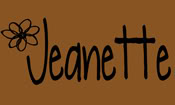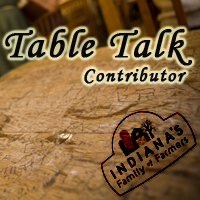 I am participating in Indiana's Family of Farmers Table Talk Series and received a gift in exchange for my participation.  Because what girl doesn't love gifts?!