Winter sports and school activities create very crazy week nights in our house.  After practices, my girls need protein to fill them up.  And while they love meat, they love pasta as well.  Beef Stroganoff is one of the most popular meals I make and one of the easiest!
The most time-consuming part of this meal is just cutting up your meat and onions.  If you don't like cutting onions, you can always buy a bag of frozen onions and use that instead.
I heated up my pan and threw in the beef to brown.  I actually browned it in two batches so it would cook faster.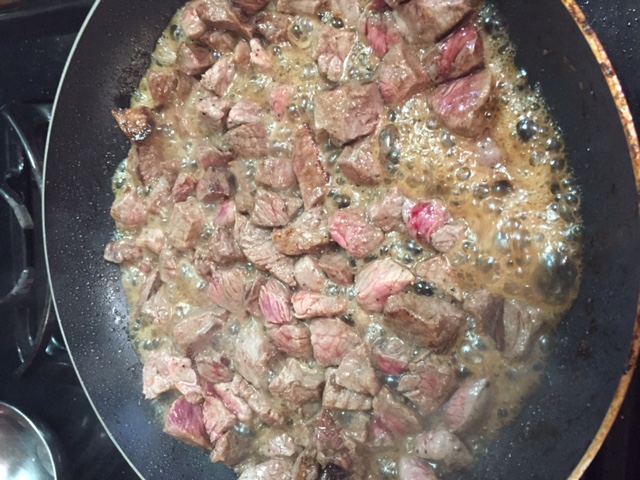 After the meat was brown, I removed it from the pan and browned mushrooms and my chopped up onions.
I added 2 cups of beef broth and let it simmer for a few minutes.
To thicken the sauce, you need to make a slurry.  All that means is you take water and cornstarch or flour, in a separate bowl, and mix.  Then add that mixture to your sauce.  Mixing the slurry separately prevents the cornstarch or flour from forming lumps when you add it to hot liquid.
Once your sauce is thick, add sour cream and stir.  Add back the beef and serve over hot cooked noodles!
It's the perfect dish.  Protein and pasta to keep everyone happy!
Easy Beef Stroganoff
Prep time:
Cook time:
Total time:
A delicious, easy school night meal!
Ingredients
1 pound cubed sirloin steak
2 tbsps oil
½ whole onion, chopped
8 ounces, sliced button mushrooms
2 cups beef stock
2 Tablespoons cornstarch or flour
½ cup sour cream
cooked egg noodles
Instructions
Heat 1 tbsp oil in a skillet and add half of the meat to the pan. Brown for 2-3 minutes. Remove the first batch to a bowl and cook the rest of the meat. Remove and set all the meat aside.
Add the remaining 1 tbsp oil to the pan and add the onion and mushrooms. Cook until brown, roughly 4-5 minutes. Add 2 cups of beef stock. Stir, scrape the bottom of the pan, and Cook to reduce the liquid by about a third.
In a separate bowl, make a slurry by mixing ¼ cup of water and the cornstarch/ or flour with a fork. Pour the slurry into the skillet and cook until the sauce thickens, about 1 to 2 minutes. Turn off the heat. Stir in the sour cream and beef and stir over low heat until the mixture is hot. Serve with cooked egg noodles.