Are you ever grocery shopping and find produce on clearance and buy all of it?  I do!
A few months ago, I found a 3-pack of red, orange and yellow peppers on sale at my local grocery store.  I love peppers.  But they can be expensive!  So when I found these three peppers for $2 on clearance, I bought all the marked-down peppers!
After bringing all of those peppers home, I needed recipe inspiration for them.  I have always loved eating stuffed peppers in restaurants, but hadn't made them at home.  So a quick recipe book search and some of my own changes let me to make Easy Crockpot Beef Stuffed Peppers!
Don't be intimated by thinking these may be hard to make.  They are so easy and SO delicious!  Since we are hog farmers and often have more ground pork in the freezer than ground beef, I also make these with ground pork and think they are just as good!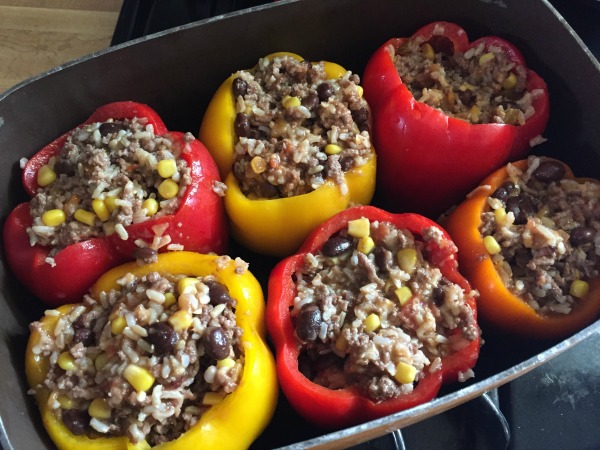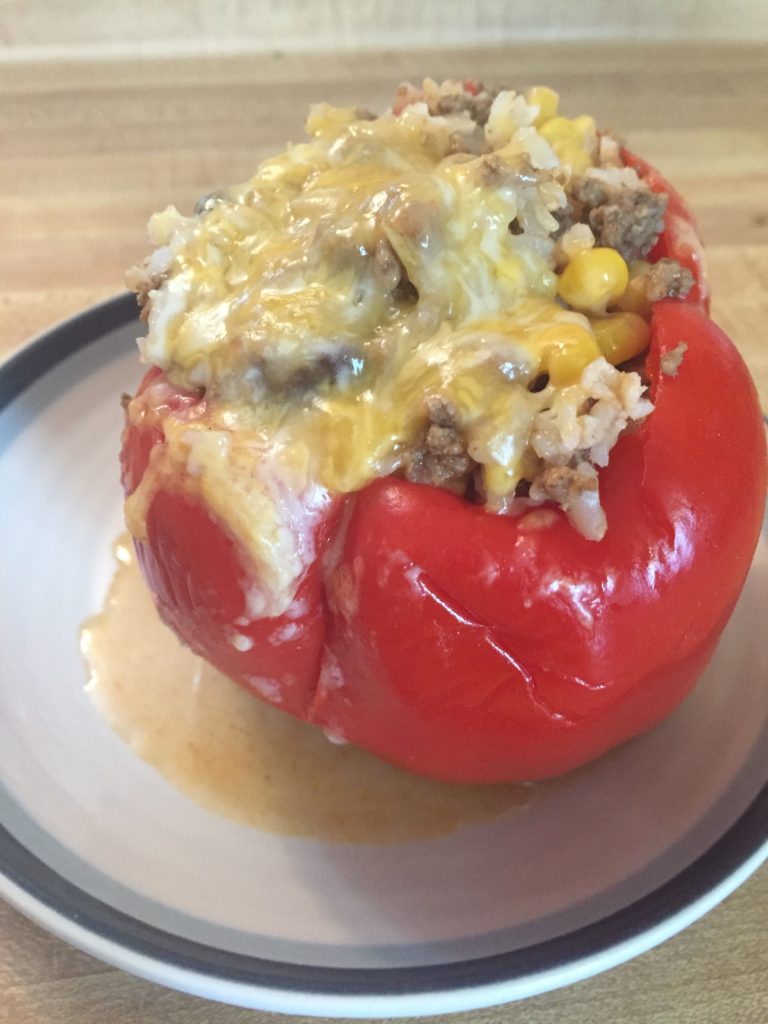 Easy, Crockpot Beef Stuffed Peppers
A simple, easy dinner that your family will love!
Ingredients
6 bell peppers
1 pound ground beef or ground pork, cooked thoroughly
1½ cups cooked brown rice (I used boil in a bag microwave brown rice)
2 cups shredded cheddar cheese
1 can black or pinto beans, drained and rinsed
1 can of corn
8 ounces salsa (or more to your taste)
Avocado, salsa, sour cream, cheese for additional toppings
Instructions
Cut tops off of bell peppers. Remove the seeds.
Spray your crockpot with cooking spray.
Cook your ground beef or pork. Mix with the brown rice, beans, corn, 1 cup of cheese and salsa.
Spoon the mixture into the peppers
Put peppers in crockpot and cook on low for 4-5 hours or on high for 2 hours
Sprinkle the remaining 1 cup of cheese on the peppers during the last 15 minutes of cooking.
Serve with salsa, chopped avocado, sour cream or any other topping you prefer!
Let me know how you and your family like them!  I'll be eating them again soon as well!