I love a quick meal during our fall harvest season.  My Farmer is in the midst of corn and soybean harvest.  And my kids are all in between basketball practice, FFA and 4H meetings, cattle and rabbit chores, potty training a new puppy and quickly nearing Thanksgiving!  We are chasing our tails around our cornfields.
Because we recently had a beef butchered, I have an entire brisket that I needed to use.  The brisket is the part of the cow above it's front legs.  What I would call it's chest.  Brisket is a tough cut of meat.  It is what is used to make corned beef or pastrami.  And to make it taste really good, I think it needs smoked for a long time or submerged in brother and slow cooked all day!
Usually, I would smoke a brisket.  But we didn't get it done over Labor Day during our camping outing with friends, so I needed another use for the hunk of meat.  8 hours submerged in the crockpot was all this meat needed to be pull-apart tender and a delicious base for this sandwich!
Yes, these are paper plates.  And probably the worst food pictures I've ever taken.  The whole family was eating outside and I don't use fancy plates when we are on the run!
Many thanks to Indiana's Family of Farmers for my new Crock-Pot Indianapolis Colts NFL Cook & Carry Slow Cooker with Bonus 16-ounce Little Dipper Food Warmer
!  This CrockPot features a cook and carry inside dish and I love it!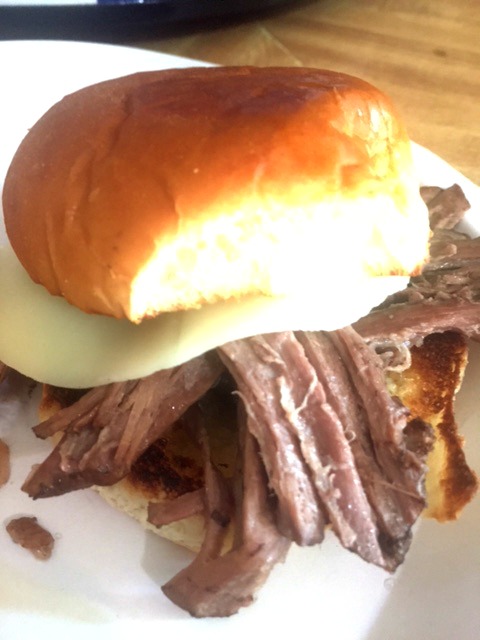 Quick and Easy Cheesy Beef Sandwiches
Prep time:
Cook time:
Total time:
Let your brisket cook all day and dinner will be quickly assembled!
Ingredients
3 Tablespoons olive oil
3-5 lbs. beef brisket
salt and pepper for seasoning
1 sliced onion
5 chopped potatoes
1 bag of mini carrots
4 garlic cloves, minced
2 teaspoons dried rosemary
3 bay leaves
1 cup dry red wine (great way to use leftover wine)
6 cups beef broth
enough water to cover brisket
Instructions
Add oil to a large skillet and heat over medium heat. Season the brisket with salt and pepper on all sides. Cook the brisket until browned on all sides, about 3-4 minutes per side.
Put the onion, carrots and potatoes in the bottom of the slow cooker. Add brisket on top of the vegetables. Add garlic cloves, rosemary and bay leaves. Add the wine, broth then fill with enough water to cover all of the beef and vegetables.
Cook on low for 8 hours, then high for an additional hour. Remove the bay leaves before serving.
Sandwiches
Remove the brisket and shred. Butter both sides of the buns then place them under the broiler on low for 1-2 minutes. Be care not to burn! Place shredded brisket on one side of the bun and top with cheese. Return that half back under the broiler for another 1-2 minutes until cheese is melted. Top with the other half of the sandwich bun. Use remaining broth from the slow cooker as a dip for the sandwiches. Serve cooked potatoes, carrots and onions alongside.
I'm linked up to Whatcha Crockin!  Check out their website for more yummy recipe ideas!
And check out my blog idol, Southern Plate, for her recipe ideas this week!  I'm linking to her Meal Plan Monday – #34 This week.