Ham and bean soup is one of my families favorite recipes to enjoy year round.  I've always made ham and bean soup in the Crockpot, but now do it in my Instant Pot.  When you make it in the Instant Pot soup tastes like it cooked all day!
I love soup.  No matter what the weather, I could eat soup.  Remember my trip to Mexico where I discovered I love Pork Pozole Soup?  I had to go home and make it immediately!  Maybe you like chili?  My Mexican Crockpot Chili is a family favorite!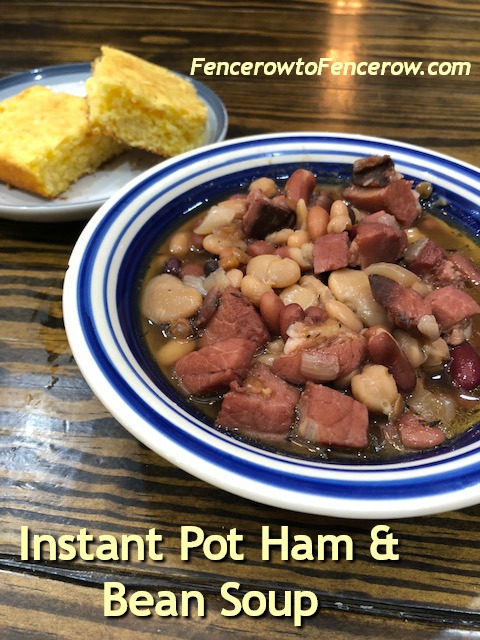 Ham and Bean Soup should be eaten with cornbread!  I rarely make from scratch cornbread.  This soup was enjoyed with a box of Jiffy Mix cornbread!
I love my Instant Pot.  I have an Instant Pot Duo80 8 quart pot.  It is a great time saver for busy families or nights you get home late and need to get a meal cooked quickly!
This soup is so easy.  There is very little prep involved.  And it will make your kitchen smell so good!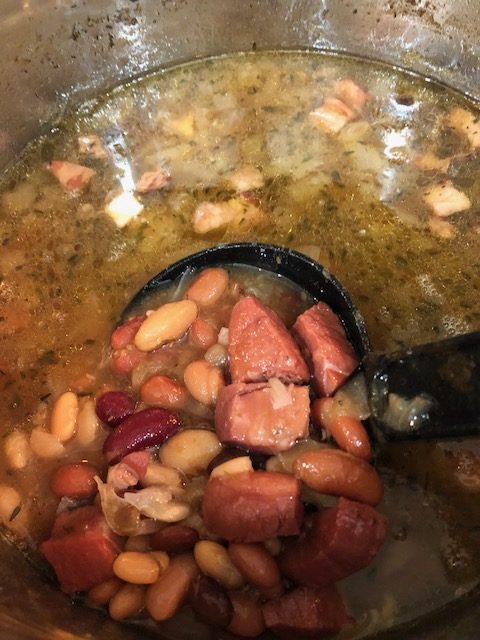 Do you have a favorite Instant Pot recipe?  Let me know what it is!  And give this simply Ham and Bean Soup a try.  You'll love this soup!  And you'll have leftovers for the next day!
Instant Pot Ham and Bean Soup
Prep time:
Cook time:
Total time:
A comfortable, filling, easy soup that your whole family will love!
Ingredients
Ingredients
1 20-ounce pack Hurst 15 bean soup, rinsed. Spice packet will not be used
1 chopped onion
2 cloves minced garlic
3 bay leaves
2 teaspoons dried thyme
8 cups chicken broth
1-2 teaspoons hot sauce, can add more if desired
1 lb diced ham - add more if you desire a chunkier soup
Instructions
Place all ingredients in your Instant Pot or electric pressure cooker.
Cook on high manual pressure for 40 minutes.
Let the Instant Pot do a natural release.
Season with salt, pepper and extra hot sauce to taste.
Disclaimer – The article contains affiliate links.  Should you want to support our farm life, please click the links! 
Jeanette